Classical Design Trends – 2019 – Colors, Wall Decor, Furnishings and Fashions
Classical Design Trends – 2019 –  Colors, Wall Decor, Furnishings and Fashions is looking as elegant and timeless as ever;  but also, fresh and exciting as today's designers, artisans, artists, craftspeople and manufacturers interpret the beauty of all things classical.
2019 Colors
2019 – Pantone Color of the Year Living Coral
Pantone partners Butter Cosmetics
"Passamenterie will begin making a big return to the marketplace in 2019. The "less is more" trend has been enjoyed for a long time, but now, modern interpretations of trims, bullion fringe and tie-backs will be in. Vibrant color combinations and unusual shapes will make passamenterie 'hip' again." — Corey Damen Jenkins of Corey Damen Jenkins & Associates
This beautiful design by Paula Henry of Simply Put Interiors , is a great example of using Pantone's Color of the Year 2019 – Living Coral.  Decorative Artist, Dee Lenehan, of Lenehan Studios expertly created and executed wall panel artwork with a fluid merging of a fabulous color palette.
This interior was done for the Baltimore Symphony Show House 2015.  The design and color palette predictive of a look which is timeless and very much today.  Jewel tones are a classic and Purple is the perfect complement to Living Coral.  Another In for this year is the enduring preference of Jewel Tones.  Blog on Jewel Tones and Jewels for the Home – 2018 Colors of the Moment.
Benjamin Moore 2019 – Color of the Year Metropolitan AF-690
"Metropolitan AF-690 emanates nuance, harmony and extravagant ease. Always adaptable, it softens to matte or shimmers with sheen. It's neutral. It's understated. It just is. This is color, off-duty."
—Ellen O'Neill, Benjamin Moore & Co.
I love this nuanced color.
I have decided to use Benjamin Moore's Color selection for 2019 Metropolitan for our Classic Style Reward Giveaway Wall Panel.  The popularity of this Decorator Supply iconic broiserie wall panel on Pinterest birthed the Giveaway.  The wall panel finish looks like an aged Metropolitan.  As previously outlined Decorators Supply has created the panel as a stand alone piece of wall decor.  I will publish the finished panel and Giveaway Instructions January 15th.
Behr 2019 Color of the Year – Blueprint S470-5
Sherwin Williams 2019 Color of the Year Cavern Clay
Colors that will not go out.
Jewel Tones
"Right now, I am loving deep, rich jewel tones with an edge. Bold indigo, hunter and emerald green, and dark teal all feel ready to have a moment outside of the kitchen. We're layering living rooms, dining rooms and bedrooms with paints, fabrics, accessories, and rugs in these colors to create drama against a backdrop of white architectural elements." — Jeff Andrews of Jeff Andrews Design
Lenehan Studios LS Home Fabric and Wallcovering
Black and White – remains a classic combination. As in fashion, this high-contrast combination creates drama in any space. Designer Brian Patrick Flynn transformed this contractor-grade bathroom into an elegant, classic space with white subway tile walls, black porcelain tile floors and an aged iron chandelier.
Architectural Digest
"Blush is the new neutral. It pairs with greys and naturals for a calming palette. It can be combined with bold colors like navy, forest green, or citrine, and it allows the bold color to be the hero." — Rob Royer, CEO of Interior Define
Beautiful combination with Metropolitan.
"At Clare, our customers are getting a lot more adventurous when it comes to color. Current Mood, which is a dramatic, moody deep green is one of our top five bestsellers and I love seeing people incorporating bolder color choices in their home." — Nicole Gibbons of Clare
Top Furniture Trends
Ligne Roset, Designer Philippe Nigro – Large, overstuffed, very soft and comfortable.
Antique Inspired Replicas
Chair Wimsy – upcycling antique and vintage chairs
These chairs are made from nothing but the best materials. The chair frames are crafted in Italy from high-end, European beech—a strong, heavy wood with a straight grain and bright color. Manufacturing of the line is done  in Texas with carefully curated fabrics from a variety of sources.
Choose Your Style
Authenticity and Real Antiques
"Ubiquitous design is now a thing of the past while antiques are an exciting nod to the design future. People want their rooms to have soul, a personality, and tell a story. With wonderful sites like Viyet, Chairish and 1st Dibs, antiques are having a major comeback."
— CeCe Barfield, interior designer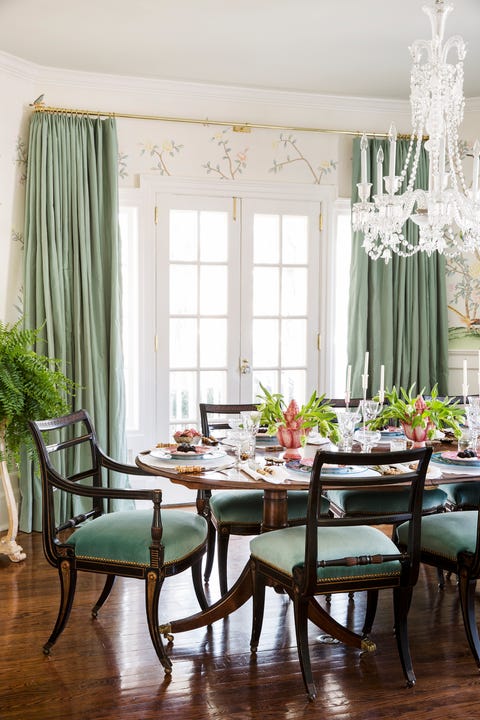 Vintage Finds
A design rule that's sure to remain true? Every room in your home needs a unique vintage piece. Even in newly-decorated spaces, distressed or worn pieces create a collected, designer look.  By Design Development
Use decorative painting to create the "vintage look".
Grand Hotel Collection by Kindel.  Kindel Rapids and Carleton Varney introduce The Grand Hotel Collection.  A collaboration for the Grand Hotel on Mackinac Island.
Luxurious Headboards and Cozy Beds
"Imagine savoring sweet dreams at home nestled beneath sumptuous fabrics. Upholstering your headboard in jewel-toned velvet adds a touch of sophistication in the often subdued sanctuary of any bedroom."
–Patrick Ediger, interior designer
Decorative Crafts 18th Century Venetian Style Headboard #1063
This will never go out of style.
"Beds are going to be more womb-like. There are so many things going on in the world, and we desire to feel nurtured and protected when we are sleeping and/or relaxing. Lots of upholstered headboards and footboards will be sheathed in comfortable textiles that feel like a warm hug."
— Joy Moyler, interior designer
Calming Bedrooms
Soft, soothing colors. Experts say colors like blue and gray can create a more calming environment.
"A return to handcrafted authenticity, especially when it comes to furniture and decorative arts versus buying mass produced pieces will be much more popular in 2019."
–Andria Mitsakos, Oil Nut Bay
Like this handpained ceiling designed by Simply Put Interiors and painted by Lenehan Studios.
Natural Materials – Marble
Our fascination with natural materials and the visual texture they add to our interiors will continue. Natural stones, quartzite, and, even terrazzo, used in unexpected categories, merge luxury and practicality in a way that makes indulgence a little more palatable." — Michel Smith Boyd, interior designer
In for 2019 bold, geometric backsplashes.
Art Deco
"We expect the Art Deco influence to become more prominent in the coming year, inspiring both textile design and furniture silhouettes. From a color perspective, pink continues to be very strong in furniture. Given that, we expect colors that complement the blush hue to do very well—specifically, olive green, oxblood, and navy."
— Meganne Wecker, founder of Cloth & Company

In:  Crown Moulding
Love this use of crown moulding with picture moulding to create a ceiling frame.

Classical Fashion
Nanushka Pre-Fall 2019
First Lady Melania wears a lot of fashions with a waistline.  This look is elegant and classic with a silk blouse and blush pants a very popular color for both interiors and fashions in 2019.
Dolce Gabanna
Elle Decor In
"The traditional beauty of floral patterns, either abstracted or straight up chintz, will be the pattern to use." — Erin Gates of Erin Gates Design
What about this amazing wall done with Anaglypta wallpaper and finished by Art Groove.
In:  Mixed Metal Accents
"An ensemble of metal accents (no more than a mix of two to three different metal accents) used throughout a room is in, and will always be a timeless and tasteful way to create balance and definition in an environment. For example, brass, gold or nickel accents mix well with either oil-rubbed bronze or aged iron accents. Metals like silver and pewter can mix well with bronze and black brown metals. It's all about moderation and context." — Keita Turner of Keita Turner Design
"The spa-inspired bathroom trend has officially returned–back to the spa, that is. These days it's all about bold, dark, sultry bathroom designs that evoke an indulgent high-end experience." — Kesha Franklin of Halden Interiors
"Light-colored floors are making a comeback, thanks to the homeowner's growing desire for a more airy and open look and feel. In shades of birch, beachy white and light oak, these floors reflect more light, and can transition from casual to luxurious, without sacrificing comfort."— Kesha Franklin of Halden Interiors
Built-In Shelving
Built-in storage in your home offers utility without extra furniture, and can be a huge selling point should you ever decide to move on. This storage space achieves a romantically worn feel of a classic in-home library while keeping the room up-to-date with fresh white bookshelves.
Suzanne Rhinestone & Associates.


Barnes Vanze Architects
Fireplaces 
Fireplaces are a focal point and make it matter.


In:  Crown Moulding
Crown molding is like the jewelry of the home: It adds that final touch to create a finished look.  Classic, timeless always in.  Sharon Stone Living Room.
About Author
Comments are closed